Focus and Scope
The Journal of Innovation in Health Informatics aims to provide information, help and guidance to all those concerned with information technology and information management in health care, both nationally and internationally. Informatics is a new and exciting discipline, cutting across medicine, nursing, computing, technology, communications, education, statistics, psychology and sociology, with its primary purpose being the application of information and communications technology to support health care.
The core issues for the journal are:
engaging the patient (and where appropriate their carer) as an effective participant in their own care (consumer health informatics);
using technology at the point of care and ubiquitously (m-Health/e-Health);
community based interventions including e-health, telemedicine and social care informatics;
improving the quality and use of routinely collected data for quality improvement and research;
data visualisation and analytics;
utilising linked, large, and big data from health and the wider community to promote health, predict and model disease and care;
information governance, privacy and confidentiality.
health informatics as an innovative discipline, creating new knowledge and the potential for new outputs from data and information;
health informatics as boundary-spanning discipline, working with health and social care; management and information technology.
Contemporary issues for the journal are:
understanding why people seek health care and equity in service provision (and the roles of IT and information management in facilitating access and equity);
methods and studies of making better use of longitudinal health data;
implementing of systems across localities health systems;
auditing the effectiveness of locality care (including comparative effectiveness research);
interoperable information systems that support integrated care;
information systems that can demonstrate the cost-effectiveness of services;
integrating decision and knowledge support systems into clinical workflow and patient self-care.
The journal seeks high-quality research papers, literature reviews and letters from both researchers and practitioners in the fields of health and clinical informatics. We take a broad view of the front-lines of health and clinical informatics and see this including the impact of public health, e- and m-health, technology-based community and social care informatics initiatives that aim to improve health and wellbeing. The breadth of our discipline is that defined in an informatics benchmarking statement (Methods Inf Med. 2007;46(4):394-8).
Top priority is scientific research papers, systematic literature reviews, realist reviews and other forms of evidence synthesis and, research protocols for randomised trials in informatics. Scientific research also includes qualitative research; we also welcome papers that develop the theories that underpin our discipline from the social sciences. However, we also publish other literature reviews, technology reports, editorials (commissioned) and case studies, website information, useful tools, reviews and conference papers.
Section Policies
Research article
Research articles should be be written in IMRAD format (Introduction, Methods, Results and Discussion) and should not exceed 3,000 words. The abstract is limited to 250 words.
Authors should look at the wider informatics literature as we require authors to include relevant background within their introduction; a "Comparison with the literature" within the structured discussion; and finally wherever possible a box about "Where this study/article" fits in.
| | | |
| --- | --- | --- |
| Open Submissions | Indexed | Peer Reviewed |
Short report
Short reports provide an opportunity to report a more limited set of data, or findings. They follow the same structure as a full paper. However, the abstract is limited to 150 words and the paper to 1000 to 1250.  Two tables or figures are allowed and up to six references.
Occasionally where a paper has limited data, we may offer to publish a short report instead.
| | | |
| --- | --- | --- |
| Open Submissions | Indexed | Peer Reviewed |
Technology report
Technology reports follow the same structure as full papers. However, instead of methods and results, there should be Development and Application sections (IDAD – Introduction, Development, Application, Discussion). They should not exceed 2,000 words and six diagrams or illustrations. The abstract is limited to 250 words. 
The development section should describe the generic type of technology, i.e. how it was developed and the barriers/technical challenges that had to be overcome to develop it.
The application of the technology section should describe the context in which the pilot application or other technology should be used and give any early feedback about its use. Even limited real world data is useful in this section. Wherever possible, a link to a demonstration website should be provided.
| | | |
| --- | --- | --- |
| Open Submissions | Indexed | Peer Reviewed |
Systematic review
The journal will accept literature reviews and systematic reviews. These are subject to the same word limits as full paper, generally 2200 to 2700. The abstract should not exceed 250 words. 
Please supply as a supplementary file the precise search strategy, so that interested parties can reproduce or update your search.
| | | |
| --- | --- | --- |
| Open Submissions | Indexed | Peer Reviewed |
Editorial
Editorials should be 800 to 1200 words. Generally these are commissioned, though we will consider unsolicited material. Generally they don't have diagrams or figures but one illustration will be considered, and they usually have no more than five references.
| | | |
| --- | --- | --- |
| Open Submissions | Indexed | Peer Reviewed |
Commentary
Commentaries are generally commissioned, especially where a submission reports unexpected findings.  Where a publication does not adequately explain where it fits in, we may use a commentary to fill in this gap.
Commentaries are usually 200 to 300 words plus up to five references.
| | | |
| --- | --- | --- |
| Open Submissions | Indexed | Peer Reviewed |
Letter to the editor
Generally 300 words is ideal, but we will accept letters from 250 to 500 words, with one diagram or figure and up to three references (a fourth is allowed if it refers to a paper in the journal). We will consider research letters of up to 600 words.
| | | |
| --- | --- | --- |
| Open Submissions | Indexed | Peer Reviewed |
Study protocols
We will consider publishing up to 3000 words, but may request a shorter summary with an online reference to the full protocol.
| | | |
| --- | --- | --- |
| Open Submissions | Indexed | Peer Reviewed |
Practical applications and discussions
Between 2,000 and 3,000 words, with an abstract of up to 250 words, setting out a practical challenge or discussion of a current issue in the practical application of health informatics. This should include a discussion of the issues, as seen by the author(s) and will draw on relevant literature to support the discussion. 
| | | |
| --- | --- | --- |
| Open Submissions | Indexed | Peer Reviewed |
Miscellaneous
| | | |
| --- | --- | --- |
| Open Submissions | Indexed | Peer Reviewed |
Conference Report
| | | |
| --- | --- | --- |
| Open Submissions | Indexed | Peer Reviewed |
Peer Review Process
All papers submitted for publication will be subject to external single blind peer review. In general we support the principles for the Uniform Requirements for Manuscripts submitted to Biomedical Journals from the International Committee of Medical Journal Editors (ICMJE).
The Journal also supports the Committee on Publication Ethics (COPE) Ethical Guidelines for Peer Reviewers:
Basic principles to which peer reviewers should adhere
Peer reviewers should
only agree to review manuscripts for which they have the subject expertise required to carry out a proper assessment and which they can assess in a timely manner
respect the confidentiality of peer review and not reveal any details of a manuscript or its review, during or after the peer-review process, beyond those that are released by the journal
not use information obtained during the peer-review process for their own or any other person's or organisation's advantage, or to disadvantage or discredit others
declare all potential conflicting interests, seeking advice from the journal if they are unsure whether something constitutes a relevant interest
not allow their reviews to be influenced by the origins of a manuscript, by the nationality, religious or political beliefs, gender or other characteristics of the authors, or by commercial considerations
be objective and constructive in their reviews, refraining from being hostile or inflammatory and from making libellous or derogatory personal comments
acknowledge that peer review is largely a reciprocal endeavour and undertake to carry out their fair share of reviewing and in a timely manner
provide journals with personal and professional information that is accurate and a true representation of their expertise.
On being approached to review, peer reviewers should
respond in a reasonable time-frame, especially if they cannot do the review, and without intentional delay.
declare if they do not have the subject expertise required to carry out the review or if they are able to assess only part of the manuscript, outlining clearly the areas for which they have the relevant expertise.
only agree to review a manuscript if they are fairly confident they can return a review within the proposed or mutually agreed time-frame (2 weeks), informing the journal promptly if they require an extension.
declare any potentially conflicting or competing interests (which may, for example, be personal, financial, intellectual, professional, political or religious), seeking advice from the journal if they are unsure whether something constitutes a relevant interest.
follow journals' policies on situations they consider to represent a conflict to reviewing, i.e. if they work at the same institution as any of the authors (or will be joining that institution or are applying for a job there); they are or have been recent (e.g. within the past 3 years) mentors, mentees, close collaborators or joint grant holders; they have a close personal relationship with any of the authors.
review afresh any manuscript they have previously reviewed for another journal as it may have changed between the two submissions and the journals' criteria for evaluation and acceptance may be different.
ensure suggestions for alternative reviewers are based on suitability and not influenced by personal considerations or made with the intention of the manuscript receiving a specific outcome (either positive or negative).
not agree to review a manuscript just to gain sight of it with no intention of submitting a review.
decline to review if they feel unable to provide a fair and unbiased review.
decline to review if they have been involved with any of the work in the manuscript or its reporting.
decline to review if asked to review a manuscript that is very similar to one they have in preparation or under consideration at another journal.
decline to review if they are unable to comply with the journal's review policies.
During review peer reviewers should:
notify the journal immediately and seek advice if they discover either a conflicting interest that wasn't apparent when they agreed to the review or anything that might prevent them providing a fair and unbiased review.
refrain from looking at the manuscript and associated material while awaiting instructions from a journal on issues that might cause the request to review to be rescinded.
read the manuscript, ancillary material (e.g. reviewer instructions, required ethics and policy statements, supplemental data files) and journal instructions thoroughly, getting back to the journal if anything is not clear and requesting any missing or incomplete items they need to carry out a full review.
notify the journal as soon as possible if they find they do not have the expertise to assess all aspects of the manuscript; they shouldn't wait until submitting their review as this will unduly delay the review process.
not involve anyone else in the review of a manuscript, including junior researchers they are mentoring, without first obtaining permission from the journal; the names of any individuals who have helped them with the review should be included with the returned review so that they are associated with the manuscript in the journal's records and can also receive due credit for their efforts.
keep all manuscript and review details confidential.
contact the journal if circumstances arise that will prevent them from submitting a timely review, providing an accurate estimate of the time they will need to do a review if still asked to do so.
notify the journal immediately if they come across any irregularities, have concerns about ethical aspects of the work, are aware of substantial similarity between the manuscript and a concurrent submission to another journal or a published article, or suspect that misconduct may have occurred during either the research or the writing and submission of the manuscript; reviewers should, however, keep their concerns confidential and not personally investigate further unless the journal asks for further information or advice.
not intentionally prolong the review process, either by delaying the submission of their review or by requesting unnecessary additional information from the journal or author.
ensure their review is based on the merits of the work and not influenced, either positively or negatively, by any personal, financial, or other conflicting considerations or by intellectual biases.
not contact the authors directly without the permission of the journal.
When preparing the report peer reviewers should:
bear in mind that the editor is looking to them for subject knowledge, good judgement, and an honest and fair assessment of the strengths and weaknesses of the work and the manuscript.
make clear at the start of their review if they have been asked to address only specific parts or aspects of a manuscript and indicate which these are.
follow journals' instructions on the specific feedback that is required of them and, unless there are good reasons not to, the way this should be organized.
be objective and constructive in their reviews and provide feedback that will help the authors to improve their manuscript.
not make derogatory personal comments or unfounded accusations.
be specific in their criticisms, and provide evidence with appropriate references to substantiate general statements such as, 'this work has been done before', to help editors in their evaluation and decision and in fairness to the authors.
remember it is the authors' paper and not attempt to rewrite it to their own preferred style if it is basically sound and clear; suggestions for changes that improve clarity are, however, important.
be aware of the sensitivities surrounding language issues that are due to the authors writing in a language that is not their own, and phrase the feedback appropriately and with due respect.
make clear which suggested additional investigations are essential to support claims made in the manuscript under consideration and which will just strengthen or extend the work.
not prepare their report in such a way or include comments that suggest the review has been done by another person.
not prepare their report in a way that reflects badly or unfairly on another person.
not make unfair negative comments or include unjustified criticisms of any competitors' work that is mentioned in the manuscript.
ensure their comments and recommendations for the editor are consistent with their report for the authors; most feedback should be put in the report for the authors.
confidential comments to the editor should not be a place for denigration or false accusation, done in the knowledge that the authors will not see these comments.
not suggest that authors include citations to the reviewer's (or their associates') work merely to increase the reviewer's (or their associates') citation count or to enhance the visibility of their or their associates' work; suggestions must be based on valid academic or technological reasons.
determine whether the journal allows them to sign their reviews and, if it does, decide as they feel comfortable doing.
if they are the editor handling a manuscript and decide themselves to provide a review of that manuscript, do this transparently and not under the guise of an anonymous review if the journal operates blind review; providing a review for a manuscript being handled by another editor at the journal can be treated as any other review.
Expectations post review peer reviewers should:
continue to keep details of the manuscript and its review confidential.
respond promptly if contacted by a journal about matters related to their review of a manuscript and provide the information required.
contact the journal if anything relevant comes to light after they have submitted their review that might affect their original feedback and recommendations.
try to accommodate requests from journals to review revisions or resubmissions of manuscripts they have reviewed.
Open Access Policy
This journal provides immediate open access to its content on the principle that making research freely available to the public supports a greater global exchange of knowledge. All papers published from Volume 21 are published under the Creative Commons Licence (see http://creativecommons.org/licenses/by/4.0/).
Indexing
Innovation in Health Informatics is indexed in
- Medline
- Scopus
- CINAHL
SCIMAGO ranking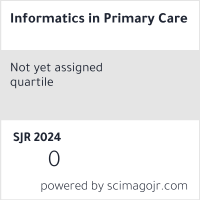 Ethics and Publication Malpractice Statement
Ethics and Publication Malpractice Statement:
Introduction:
The Journal of Innovation in Health Informatics (JoIiHi) sets out to follow the highest ethical standards and minimise risks of publication malpractice. Our cornerstones for doing this are:
1. Applying the principles and the Code of Conduct of BCS, The Chartered Institute of IT (BCS) to everything we do. This journal (JoIiHi) and its predecessor Journal – Informatics in Primary Care are wholly owned by the BCS. In brief the BCS is a Learned Society and a registered charity.
2. Compliance with contemporary standards expected of a peer review journal. We include in our approach to peer review, and editorial policies all relevant contemporary standards.
3. Reducing the risk of publication malpractice. Our guidance is based on guidance published by the Committee on Publication Ethics (COPE).
4. We have produced a Publication ethics and publication malpractice statement (adapted from COPE). The statement is included at the end of this document. We follow standard practice concerning ethics, authorship and plagiarism, including self-plagiarism.
More precisely:
1. Applying the principles and the Code of Conduct of the British Computer Society (BCS) to everything we do:
In addition to adopting guidance generally applied to peer review journals all those who are members of the Journal of Innovation in Health Informatics (JoIiHi) team who are members of, or employed by BCS are subject to its principles and Code of Conduct. This however does not in any way interfere with Editorial policy nor preclude publication of articles that might be critical of BCS policy or practice. Within a learned society such as BCS such academic criticism is welcomed and seen as the application of intellectual rigor and is welcome.
Key principles of the BCS relevant to publication ethics are: • BCS is a Learned Society, governed by a Royal Charter granted in 1984. The Charter defines the BCS purpose as follows: to promote the study and practice of Computing and to advance knowledge and education for the benefit of the public.
• BCS is also a registered charity, hence a not-for-profit and has to comply with standards set out by the Charity Commission and Charities Bill.
• Key activities of BCS which it sees this journal help fulfil are: (1) Exchanging IT expertise and knowledge, (2) Supporting practitioners; and (3) Setting standards and frameworks.
•  BCS has a code of conduct for all members. This includes the need for professional competence and integrity.
• The journal (JoIiHi) was published free-full-text on line, as part of BCS's charitable mission.
 2. Compliance with contemporary standards expected of a peer review journal
We expect that all authors included on a paper fulfil the ICMJE criteria for authorship http://www.icmje.org/recommendations/browse/roles-and-responsibilities/defining-the-role-of-authors-and-contributors.html and nobody who fulfils the criteria to be an author has been left out. We expect that any data used are done so are used with permission and that where appropriate ethics board permission has been obtained. We also anticipate that all authors and contributors are acknowledged, and that our guidance to authorship are published. Although not mandated our editorial team and reviewers are volunteers. We encourage the authors, who benefit from the time put in by our peer reviewers, to also consider volunteering to review.
3. Reducing the risk of publication malpractice.
We are aware of high profile cases of publication malpractices, and also of the practice of self-plagiarism. We have developed an ethics and malpractice statement based on guidance published by the Committee on Publication Ethics (COPE). We strongly advise authors, Editors, Editorial Board Members, Reviewers and Authors to consult the guidance on the COPE website: http://publicationethics.org/resources/guidelines We reserve the right to introduce anti-plagiarism software or other tools to try to reduce publication malpractice.
4. JoIiHi – Journal of Innovation in Health Informatics Publication ethics and publication malpractice statement (adapted from COPE)
JoliHi is committed to ensuring ethics in publication and quality of articles. We expect that all parties involved in the publication process adopt ethical standards of behaviour. These apply to: Authors, Editors, Reviewers, and the Publisher.
Authors: Authors should present an objective discussion of the significance of research work as well as sufficient detail and references to permit others to replicate any literature review undertaken or experiments performed. Fraudulent or knowingly inaccurate statements constitute unethical behaviour. Review articles should also be objective, comprehensive, and accurate with the stance and perspective of the author clearly declared. The authors should ensure that their work is original, and if work and/or words of others have been used, this has been appropriately acknowledged. Plagiarism in all its forms is unethical. Submitting the same manuscript to more than one journal concurrently constitutes unethical publishing. Authors should not submit articles describing essentially the same research to more than one journal. The corresponding author should ensure that there is a full consensus of all co-authors in approving the final version of the paper and its submission.
Editors: Editors should evaluate manuscripts exclusively on the basis of their academic merit. An editor must not use unpublished information without the express written consent of the author. Editors should be responsive when complaints about ethical issues are made. The response should be proportionate and either reported and published in open Editorial group meetings or published in the journal. The level of response will depend on their seriousness. Editors will carry out their duties in a timely way.
Reviewers: Manuscripts reviewed are to be treated as confidential. Information or ideas obtained through peer review is confidential. Reviews should be conducted objectively, and observations should be formulated clearly with supporting arguments, so that authors can use them to improve their paper. Reviewers should not review manuscripts where they have conflicts of interest. They will also carry out their duties in a timely way.
Publishers: The publishers will ensure the autonomy of editorial decisions, without influence from advertisers or other commercial partners. The publishers will protect the intellectual property and copyright of the authors, and help ensure that this is preserved under a creative commons licencing process. They will work in a timely way to ensure all papers are made available to a wide audience whether or not they support the policy of BCS. In cases of scientific misconduct, including fraudulent publication, or plagiarism the publisher, in collaboration with the editors, will take all appropriate actions. This may include the prompt publication of corrections or an erratum or where appropriate retraction of the affected work.